Fellow Trojans, Many of you desired to get a piece of history, from the old gym and asked to be notified after asbestos abatement was completed. It has been completed.

Shortly after 8:00 pm on May 26, 2022, Trinidad ISD received a report of an alleged verbal threat from a student towards the high school graduation ceremony to be held Friday May 27, 2022. Local law enforcement were called immediately. A thorough investigation took place. The investigation led to the student admitting that he made a "joking" verbal threat towards the graduation exercise. He expressed deep remorse for his actions. Of course various police and court procedures followed. It should be noted that if a threat ever existed, it was stopped shortly after midnight Friday morning. Although no threat exists, all attendees can expect law enforcement presence on Friday. We encourage everyone to speak with their children about the ramifications of even joking about violence. Due to this being a legal situation with a minor, this will be the only statement from TISD. Corey Jenkins, Superintendent

Join us to celebrate the Trinidad Thespians on Tuesday May 17th!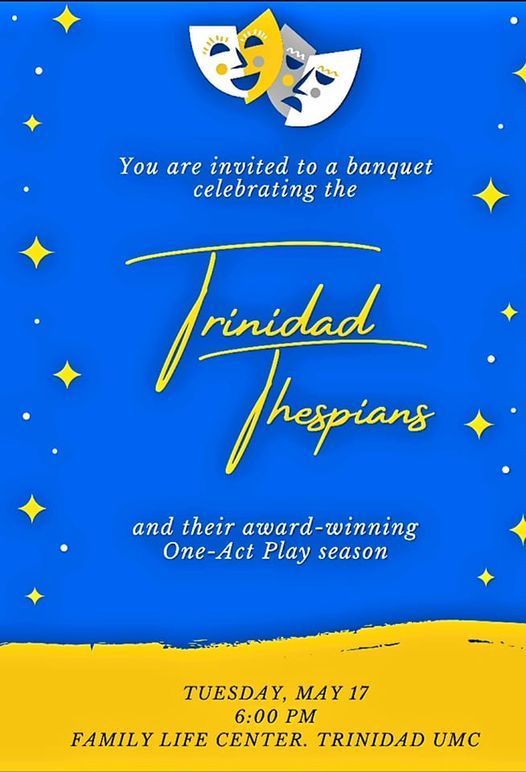 The deadline to submit a photo and secure a page is May 20, 2022 Congratulations Seniors!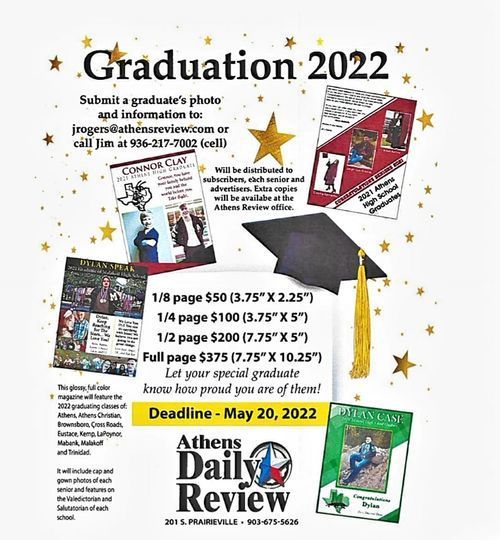 Due to necessary closures, Trinidad ISD has fallen under the state required minutes of instruction. In order to get us back into compliance, Friday April 15th will be a regular school day (8:00-3:35).

A near catastrophic failure turned out to be our kids finest moment in my opinion. When  they called for  Trinidad  OAP to perform at the  district competition, for whatever reason our laptop would not sync with the house system. "NO SOUND". Our kids stepped on stage and smashed it. I have never been more proud. Moving on to Bi-District. Congratulations TISD Thespians.

Trinidad ISD will have an early release Friday March 4, 2022 at 12:30 to allow travel time for staff and students to attend Regional basketball game in Del Valle. We will find another time to make up our required minutes. Thanks for your continued support.

Due to necessary closures, Trinidad ISD has fallen under the state required minutes of instruction. In order to get us back into compliance, Friday March 4th will be a regular school day (8:00-3:35) instead of an early release.

On Friday 2-25-22, Trinidad ISD will open at 10:00 am. to assist in the safe arrival of our commuting staff and students.

Due to the icy condition on bridges leading into Trinidad, Trinidad ISD will be closed today (Thursday 2-24-22)

Due to the possibility of inclement weather and our commuters, Trinidad ISD will have an early release today 2-23-22 at 2:30 pm, and a late start tomorrow 2-24-22 beginning at 10:00 am.

Due to the likelihood of inclement weather,  Trinidad ISD will be closed Thursday and Friday. Coaches will communicate any  schedule changes on athletic page. Stay safe.

We apologize for the lack of phone service today. A preliminary assessment revealed some fiber line issues. ESC 7 will be on campus to lead the repair Monday. Sorry for any inconvenience.

Due to the uptick in various illnesses, Trinidad ISD will be closed Thursday through Monday and return Tuesday January 18th. Coaches will inform you of athletic calendar changes. Stay safe.

The Trinidad Independent School District and Trinidad Police Department is aware of a disturbing national TikTok challenge which encourages students to make threats of violence against their school on Friday, December 17. PLEASE KNOW there are no known threats of violence against Trinidad ISD at this time.



Student Drop-off and Pick-up: Please maintain a single car line and don't pass around. We are trying to be as efficient as possible. Student safety is our greatest concern. I have asked Trinidad PD to assist us periodically.

We are excited to welcome our students back August 18, 2021. Quick Points: 1. Face to face instruction 2. Masks encouraged but used by choice 3. Walkers & Car riders enter front of elementary for temp. checks 4. Temp. checks at bus drop off. 5. Classes social distanced (3ft.)

ARP/ESSER III Public Meeting When: Monday June 21, 2021 @ 7:00 pm Where: Trinidad ISD Board Room 105 West Eaton St. Trinidad, Texas 75163 Trinidad ISD intends to apply for funds from the American Rescue Plan through ESSER III. We are seeking input from all district stakeholders (staff, students, parents, community, and local businesses etc.) regarding plan of use of funds if awarded.